Well I did enjoy reading it when I got it last November, and I even re-read it in May, because it is excellent in terms of Nigella chatting away, great photos and some really good recipes to chose from. I did also buy her 'Feast' book the year before, and so I could see how this had come directly from that tome . . . (there is a little too much repeating of recipes in places) but I can't help really, really liking Nigella Lawson; she forces me, in spite of myself, and all the whoha that surrounds her. But I can understand though if this is not another persons 'cup of tea'. The one thing I will say is that I find a lot of her major Christmas recipes (a lot of the main, core meats, sauces and puddings) are a little too sweet! Maple syrup and sugars and other sweetners are a little over-done, cutting back on the quantities of these ingredients often (IMHO) improves the dishes. But as a stand alone festive season recipe book, full of inspiration it really is almost essential reading.
I give it 4 out of 5 stars ****
Recommended and recommended as a gift.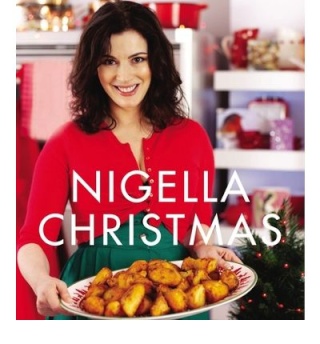 Link to Amazon Page: Nigella Christmas Recipe Book
Faults: A few of the ingredients in her recipes are unusual, that is to say not straight forward to obtain, and expensive, substitutes will do but this leaves you feeling 'what if' or 'if only' I had made it according to Nigella . . . not what you want at this time of year! Also if you want some of the things she mentions then internet ordering is sometimes the only way if you live out in the rural areas and so major forward planning is needed to make sure they are ordered in time. Her original 'Feast' Book, if already owned, covers a lot of the same ground, but it also does other times of the year, so it could be said to be the more important book.
Good Points: It is well written, with easy to follow recipes that are not too difficult or time consuming - great layout and pictures too. A few knowledgable tweeks from Nigella on old favourites does improve them ie. the roast potatoes done with semolina were a big hit. The home-made present recipes are outstanding. Also the recipes tie in with the TV series and online videos, which is a great help (although some of the best recipes are to be found only in the book).
Personal Issues: You will either love it or hate it that she is chatty in her 'Nigella style' or that she makes you feel it's ok to be a little slobish in the kitchen, cutting corners and using ready made ingredients rather than slaving away at producing absolutely everything from scratch. Me? I didn't mind it so much.
Alice35