This is another one from Charles Dickens in 1847 - again I use the adapted version! But I give you the authentic one listed. This is a great spectacle as it involves fire and booze!
________________________
The Authentic Recipe For Christmas Punch
To make three pints (which should serve about eight people), take a 'strong, common basin (which may be broken, in case of accident, without damage to the owner's peace or pocket)' and in it place the finely sliced rinds of three lemons, a 'double-handful' of sugar lumps, a pint of dark rum and a large wineglass of brandy.
Set alight and allow to burn for three or four minutes (extinguish by covering with a lid). Add the juice of the three lemons and a quart of boiling water. Stir, cover, leave for five minutes and stir again. Taste and sweeten if necessary, but 'observe that it will be a little sweeter presently'. Pour into an ovenproof jug or bowl and cover with a greaseproof paper (Dickens suggests a leather cloth). Place in a hot oven for ten minutes. Remove the lemon rind before serving.
_________________________
The adapted version - makes around 25 small glasses full.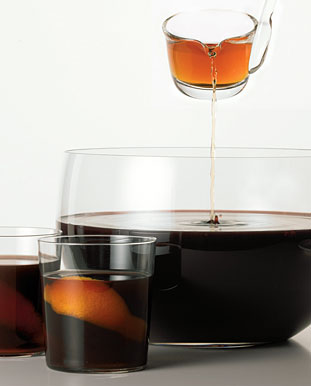 A hot punch like this is perfect for a Christmas Party - but two notes of caution: a heat-proof punch bowl and glasses are essential and you want to be cautious when playing with fire, because nothing ruins Christmas faster than burning down the tree or the house.
750 mL bottle dark rum
750 mL bottle red wine
325 mL bottle of port
325 mL bottle of brandy
500g brown sugar
20g of white sugar
2 tsp of ginger
2 tsp of cinnamon
2 tbsp of honey
6 cinnamon sticks
6 cloves
1 star anise
1 tsp grated nutmeg
grated zest and juice of 3 large oranges
grated zest and juice of 3 large lemons
4 firm small oranges sliced into wedges
4 firm small lemons sliced into wedges
Optional
3 cups of strong tea
Put all the mixture into a large saucepan except for the brandy and the white sugar (some recipes also call for three cups of strong tea - if you want to make it 'English' add this to the punch mix now). Heat the punch mixture in the pan on a low temperature for 20 minutes, do not allow the punch to boil. After 20 minutes check how sweet or sour it is and adjust using more sugar or more lemon juice, turn the heat up and warm for another 10 minutes, again do not allow the punch to boil. Remove the cloves, cinnamon sticks and star anise, and pour the heated mix into a heat proof punch bowl - take to the table and then dim the lights. Place the white sugar into a large ladle then saturate the sugar in the ladle with the brandy (pour any excess brandy into the punch). Ignite the brandy and sugar in the ladle and pour it while still aflame into the punch. When ready stir well and extinguish the flames. Serve in glasses that are heat proof to warm liquids, add a wedge of lemon or orange from the punch to each glass.
__________________________
Alice35