These are great, and great fun when made with my kids . . . . its from a Nigella recipe.
Nigella Lawson . . . . "You'd think this was designed to keep the children happy, and while that's OK with me, it is the adults who seem to find this particularly irresistible. But if you can't appeal to the child within at this time of year, when can you? If I can find a tub of edible disco glitter in one of my cupboards, I sprinkle some on while the marshmallow is still sticky, but it has a certain pearly, luminescent appeal as it is. It's also beautiful cut in squares, then each piece pierced with a white birthday cake candle, and arranged on a stand. Alternatively, you could turn this into more of a pickable pud, but cutting the slab into teeny-tiny squares so that people can pop one straight into their mouth".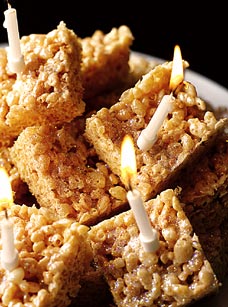 Makes 24 squares
Ingredients:
45g butter
300g mini marshmallows
180g Rice Krispies
Edible glitter or sprinkles (optional)
Method:
1. Melt the butter in a large, heavy-based saucepan over a low heat.
2. Add the marshmallows and cook gently until they are completely melted and blended, stirring constantly.
3. Take the pan off the heat and immediately add the cereal, mixing lightly until well coated.
4. Press the mixture into a greased 32cm x 23cm tin; you may have to put on vinyl CSI gloves and press it down into the corners, as it will be very sticky. Flatten the top and then scatter over the edible glitter or sprinkles, if so inclined.
5. Let the marshmallow crispy squares cool completely in the tin and then cut them into 24 squares.
Alice35