This one is from Mr Christmas Himself, and it is really good! I use the adapted version, but I have listed the original here if someone wants to be authentic!
__________________________
The authentic Hot Gin Punch
Juice 1/2 lemon
pinch ground cinnamon
1 stick of cinnamon to stir
1 clove
1 teaspoon brown sugar
1 teaspoon honey
1 large measure sweet dark Madeira wine
1 large measure dry gin
pot of boiling water
grated nutmeg
Method: Into a warm tumbler put the juice of half a lemon, the cinnamon and clove, and the sugar and honey. Threequarters fill the glass with boiling water, add the madeira and gin and stir with a stick of cinnamon. Grate nutmeg thereon and drink quickly.
__________________________________
Adapted version that I use: adjust quantities up or down for the number of cups being made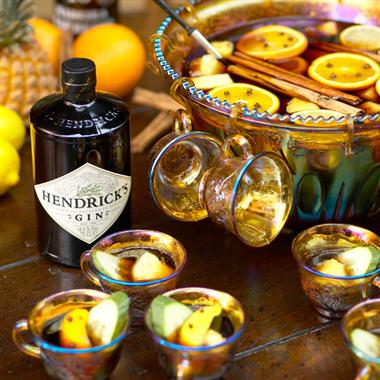 Makes enough for 10 to 15 large glasses depending on the measure served - use the same serving glasses to measure out the gin, water and wine.
4 large glasses of London Gin
6 large glasses of Madeira wine
1 large glass of water
4 whole cloves
4 cinnamon sticks
1 star anise
1 tsp of grated nutmeg. Plus pinch of grated nutmeg to serve
1 tsp of cinnamon powder (heaped)
1 tsp of ginger (heaped)
6 tsp brown sugar (heaped)
6 tblsp honey
6 Oranges And 6 Lemons
- 3 lemons and 3 oranges to zest, zest in large(ish) pieces to drop in to the mixture
- juice of 3 lemons and 3 oranges (use the zested ones from above)
- Slices of 3 oranges and 3 lemons (unzested) about 4mm thick
Method: Mix all ingredients in a saucepan and place on a low heat. Let the concoction warm through without boiling for 20 minutes. Taste and rebalance the sweet/sour flavours with more honey or lemon, if needed. Increase the heat, but again make sure that it does not boil, for another ten minutes, then pour into heatproof glasses with a handle (or into a punch bowl at a party). When serving either pop into the glasses a few orange and lemon zest pieces with a little grated nutmeg on top, or decide to keep the drink clear, this depends on your presentation. It can remain warmed in a pan on a low heat for repeat servings (however be careful of the cloves and star anise, they should be removed if standing for a long time, to stop the drink becoming like medicine).
__________________________________
Enjoy! And take Mr Dickens' advice "Grate nutmeg thereon and drink quickly"
(P.S. every year I make this before bed on the nights leading up to Christmas and read a few pages of the Christmas Carol . . . magical)
Alice35